Experience a new Twist of Your Favorite
Are you looking for low cost, typical townie bar who serves NFL package and popcorn to munch on? Well the best place to go is The Rock Cafe and The Smoking Rock BBQ. We recommend you the all-time favorite menus for the BBQ next door, as well as your favorite popcorn. Experience a twist in your favorite BBQ!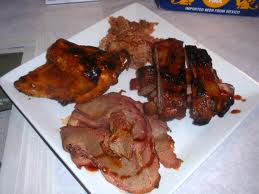 Just within its one year in business, The Rock Cafe and The Smoking Rock BBQ have gained increasing popularity. If you want a great experience with delicious, inexpensive foods, visit us now! We are proud to say that we are using local ingredients, and it surely is recognized in the dishes.
Grab a tray and order your favorite BBQ. Choose a type of garnish you want on it and pay the cashier!
Whether you're with your with friends, or enjoying an evening by yourself, Rock Cafe and The Smoking Rock BBQ is a fantastic enjoy great foods.